Story
Provenance research: The stories behind the things
Diving into archives, tracing the migration of museum objects through time and contexts – this is how provenance researcher Claudia Andratschke describes her work. A portrait.
"Do you seriously want to trace that one all the way back to its origin?" When Claudia Andratschke was working on one of her first cases in 2013, many a colleague couldn't help but make such a pointed remark. The postdoc historian had just taken up a permanent position at the Landesmuseum Hannover. She had been doing research there since 2008, focusing on Nazi looted property she tracked down in the museum's collections. But now she found herself responsible for examining all the Landesmuseum's holdings and new acquisitions across all departments – which is how a request from the natural history department landed on her desk. Andratschke was asked to check the provenance of a permanent loan that they now wanted to purchase: the fossil of a 190-million-year-old fish dinosaur.
"At first, everyone thought it shouldn't be much of a problem. We've had the dinosaur on loan for so long. And what's the point of doing a provenance check on a fossil anyway? Precisely how far do you want to trace it back?" she recalls. What followed came as a surprise, even for Andratschke: "All we knew was that the item had come into the possession of the Kurt and Ernst Schwitters Foundation from a Swiss dealer. Some time after this, our museum was given the fossil as a permanent loan. So I started to think about where I should start my research: Where in Europe are such fossils likely to be found?" Through persistent detective work that eventually took more than half a year, Andratschke finally narrowed the search down to the west coast of England. She was even able to track down the person who had discovered the fossil. "It was an elderly gentleman who led guided tours in the area." Since he didn't have access to the Internet, Andratschke's emails had to be printed out for him by a neighbor and brought to his house. "That was rather special," she recalls with a smile.
Tracing a work of art
But in the end, she says, the effort paid off. "Not only had we ruled out the possibility that the fossil had been obtained illegally, but we were even able to determine the exact location where it was found." A highly relevant piece of information for researchers. After all, "What good is a find like this to researchers if they don't know where it came from?" The two-and-a-half-meter-large primeval creature, a so-called ichthyosaur, had hung for a long time in the living room of Ernst Schwitters – son of the famous artist Kurt Schwitters – before it became part of the holdings of the Kurt and Ernst Schwitter Foundation, founded in 2002, and found its way to Hanover.
Tracing the history of a piece of art like a painting through periods of time and uncovering the story behind it is the sort of detective work that has inspired Claudia Andratschke since her youth. She had already become interested in art and history at school, choosing both subjects as honors courses in high school. Nevertheless, she didn't want to rush into anything after graduating from high school, so she first worked on the renovation of an old half-timbered house and completed an internship as a restorer. "If you spend eight hours at a stretch sanding and applying shellac polish, you have plenty of time to think about your future," she says with a laugh. The decision was finally made to study art history in combination with medieval and modern history. She quickly added law as a subject as well. "On the one hand, it appealed to me because it requires such a precise and formal approach. On the other hand, I thought, you can always switch to the art trade later on."
Wandering through times and contexts
Even in her art history major, Andratschke was more interested in a sober, scientific look than in exploring the emotional impact that works of art trigger in their viewers. "Of course, you can ask yourself what you feel when you stand in front of a masterpiece. But for me that's not the most important thing. I was much more interested in the scientific criteria and methods that can be used to analyze and classify such works." Andratschke is fascinated by the way in which works of art move through times and contexts, how sculptures and paintings, for example, break away from their religious origins, are assigned new functions, and in some cases even become instrumentalized as a result. "I can't travel through time myself, but I can plunge into the surviving sources and reconstruct a history."
The fact that this translates into painstakingly searching through the archives does not bother Andratschke. On the contrary, she thrives on this type of work. Already after her intermediate examination at the University of Braunschweig, she starts work as a student assistant. She enjoys science, moves to Tübingen for her degree and also earns her doctorate there – supported by Studienstiftung des deutschen Volkes. Where her future career will take her is too early to say; one professor describes her status as "a bit between the chairs" – not quite a scholar of history, but not a "real" art historian either, since her work in this area has an unusually strong historical approach. So she initially works as a freelance art historian and then accepts the offer of the Landesmuseum Hannover to carry out a thorough audit of all its paintings and sculptures.
"My job entailed going to every single object at its location and matching it with the data from the databases and inventories." Andratschke then landed her first, temporary position in provenance research. "I enjoyed that so much and finally realized what I want to do going forward." She has written to her former professor to tell him that she "has now found her place between the chairs."
Political dynamics
In the meantime, Claudia Andratschke has become one of the most motivated and engaged provenance researchers in the country. And that's really not so surprising. Provenance research deals with precisely the sort of thing that has fascinated Andratschke since her studies: doing detective research into the origin of an object. The goal is to compile records as accurately as possible. Only then can it be ruled out that the object has been acquired or resold illegitimately. For a long time, so-called Nazi looted property was a particular focus, but currently colonial contexts are playing an increasingly important role.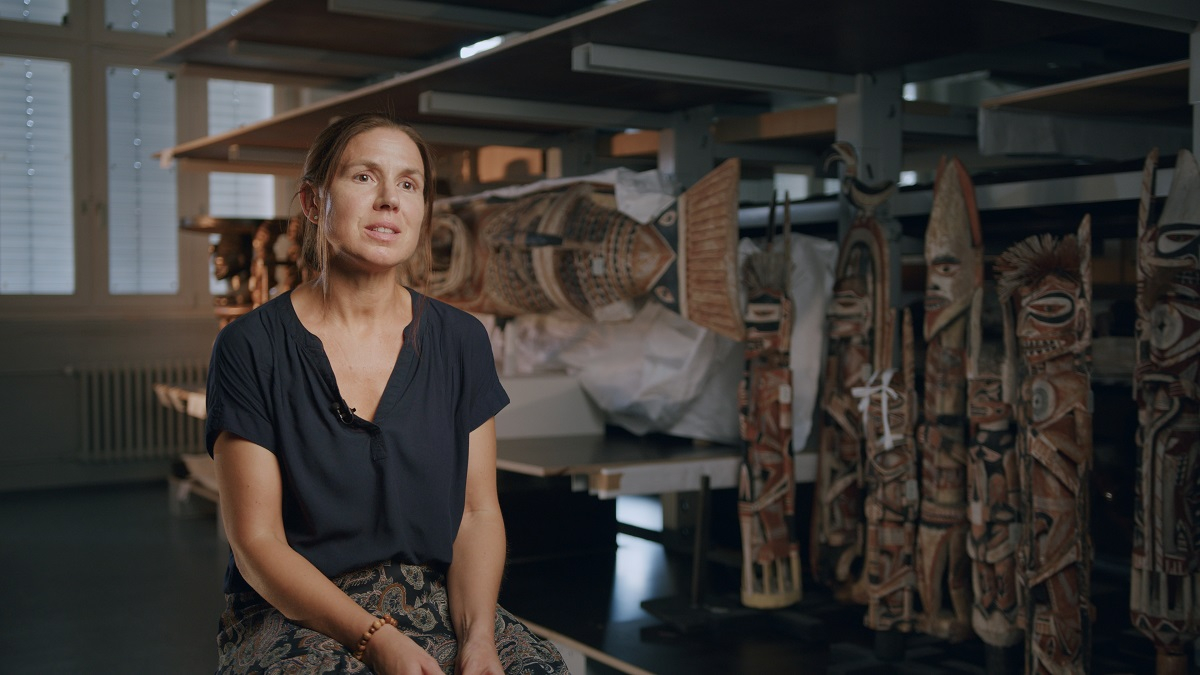 Claudia Andratschke is not only active at the Landesmuseum Hannover. Since 2015, she has also led and coordinated the Provenance Research Network in Lower Saxony, initiated by the Lower Saxony Ministry of Science and Culture – with around 60 members and partners from museums, libraries, archives and associations. She is also a member of the Arbeitskreis Provenienzforschung e. V. (Provenance Research Working Group), where she is a member of the "Colonial Provenances" working group, among other things. This was also a focus while acting as coordinator of the collaborative research project Provenance Research in Non-European Collections and Ethnology in Lower Saxony (PAESE), which was funded by the Volkswagen Foundation from 2018 to 2022. The main goal of the project was to lay the foundation for a research infrastructure in the field of provenance research that did not exist at the time, focusing on collection items from colonial contexts that are now in Lower Saxony. "For a long time, this only involved dealing with isolated solutions. Maybe an occasional exhibition, but often with very different questions."
Like many of her colleagues, Andratschke is grateful for the political momentum that the topic of "colonial heritage" triggered as a result of the Saar-Savoy report published in 2018. Commissioned by French President Emmanuel Macron, Senegalese economist Felwine Sarr, together with French art historian Bénédicte Savoy, had collected information from French museums about works of art that had been transferred to French museums in a colonial context and should therefore actually be returned. They came up with a staggering 90,000 objects. "Since then, of course, our work has received a whole new level of attention," says Andratschke.
Ah, so that's what it looks like!
And that is a good thing, he says, because there is still a lot to do. Andratschke recently had guests from Tanzania visiting Hanover. "At some point, they stopped in front of an object and exclaimed: Ahh, so that's what it looks like! That is known to us from description, but we have never actually seen it!" After such encounters, she always realizes how urgently the topic still needs to be addressed, how fundamentally colonialism has intervened in the cultures of many ethnic groups, Andratschke continues. "It's not even just about material things." After all, valuable indigenous knowledge was also transferred – ranging from cultural techniques for the production of objects to herbal substances that the pharmaceutical industry used to develop drugs.
The astonishment at the surprising whereabouts of cultural assets is not limited to the large collections. "I am always particularly perplexed when visiting smaller museums, when even there someone recognizes something that originates from their region. Along with the visitors I am then sometimes truly amazed: What – the objects have landed up here?" That makes it all the more important to make them better known. For example, with the help of a publicly accessible database, as developed by the PAESE research project, which is now being funded by the Provenance Research Network in Lower Saxony and generating a great deal of public attention. Claudia Andratschke is working hard on both.